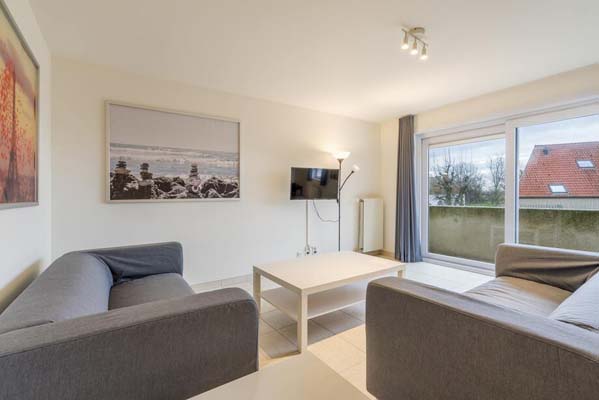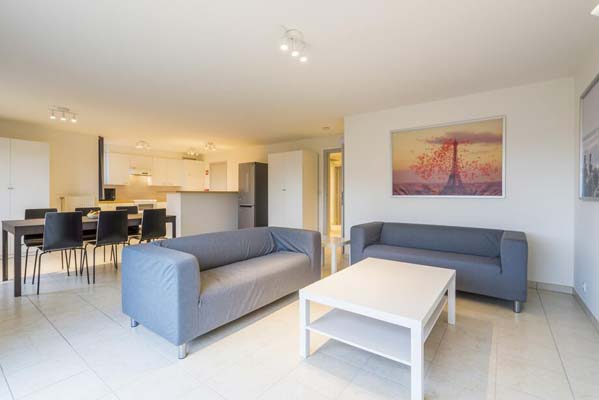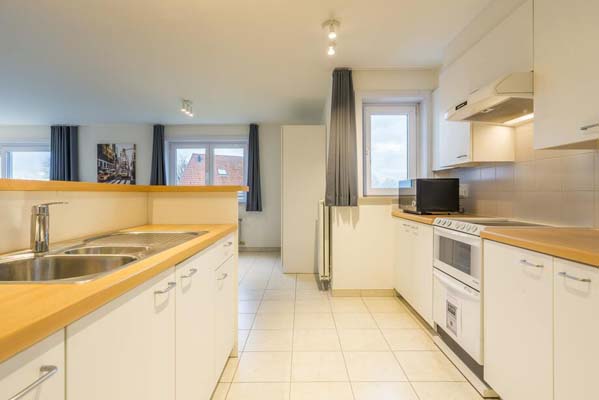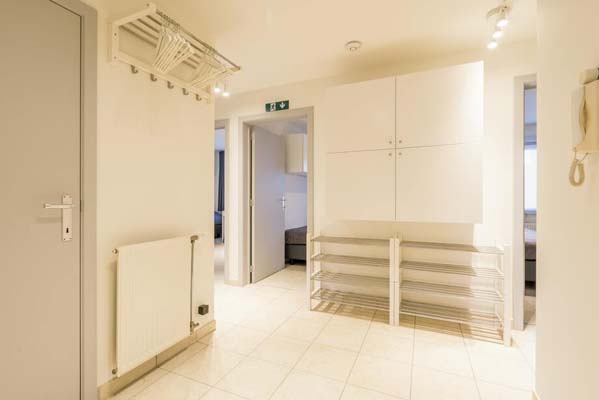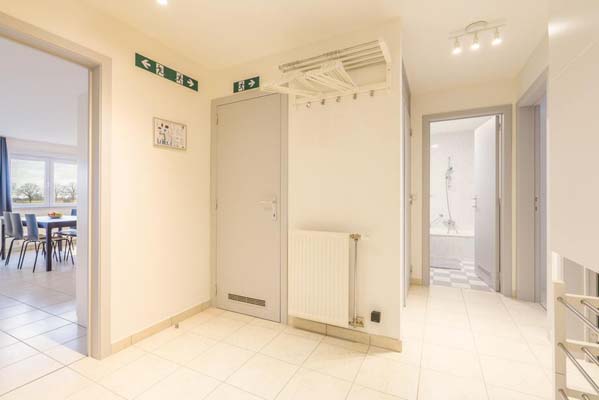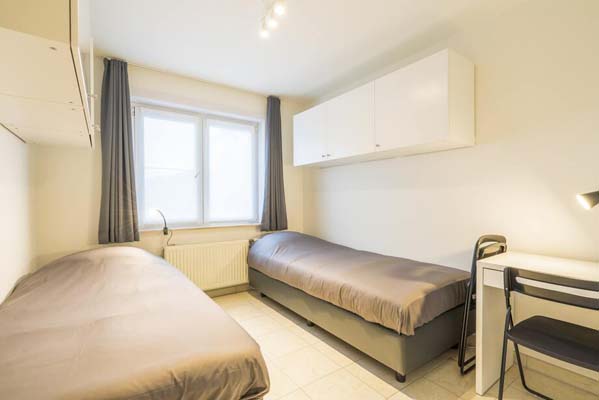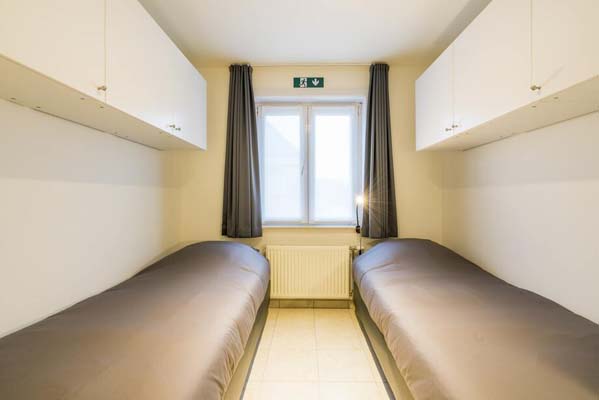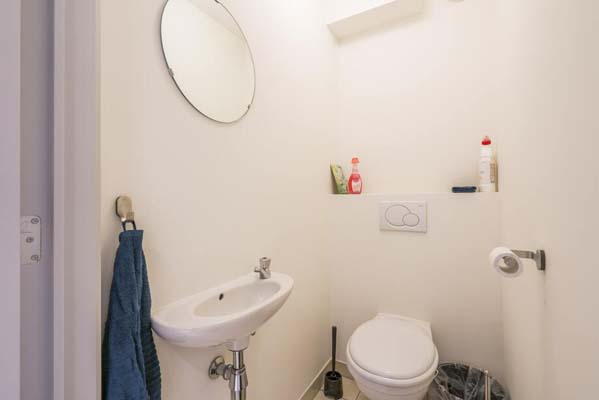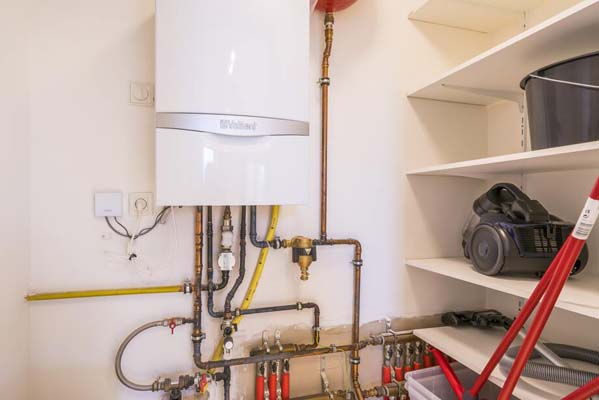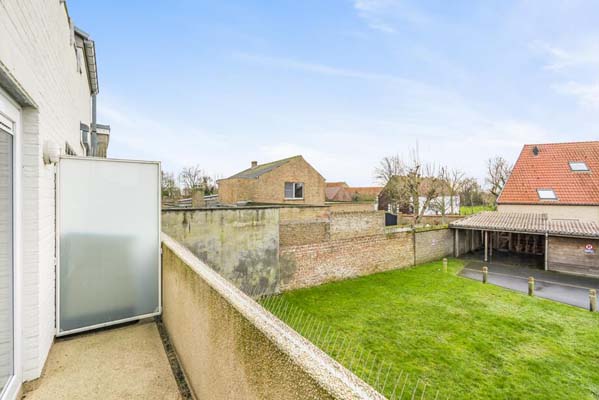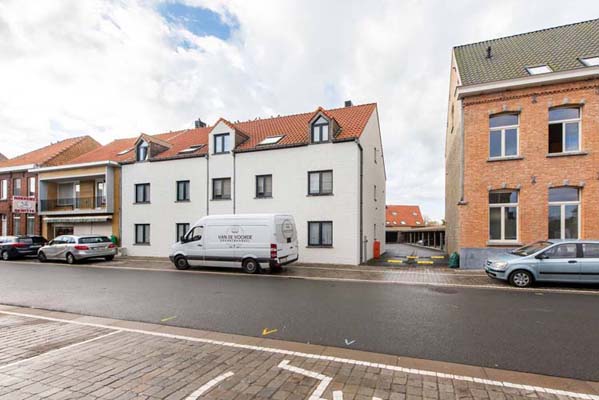 Jabbekestay 102 – Stalhille
8490 Jabbeke – +32 (0)471 25 64 03












Our fully renovated apartment with its perfect location in Jabbeke, near Brugge, and close connection to the E40 makes this the ideal rental property for people looking to rent a house that can accommodate up to 6 people.
The accommodation is centrally located between Zeebrugge (27 min), Brugge (25 min), Oostkamp (16 min), Zedelgem (14 min), Torhout (23 min), Oostende (12 min), and is close located to Nieuwpoort (21 min), Knokke-Heist (30 min), Aalter (24 min), Roeselare (30 min), Diksmuide (28 min), Veurne (27 min). This rental property is aimed at and arranged to suit especially 6 temporary (foreign) workers.
Our furnished all-in accommodation has:
fast & unlimited WIFI (internet) in the whole apartment for easy communication with home
3 practical and warm bedrooms with obscuring curtains, each room with two with two single beds and each bed with multiple bed linen
a fully equipped kitchen, 2 fridges & a freezer, but also pots, pans and cutlery for easy cooking & food storage
a bathroom with bath/shower with multiple bath linen for each person
a washing machine & dryer for easy laundering
a smart TV (internet & cable)
a neat terrace (outdoor furniture is not provided)
cleaning material for cleaning the apartment in between
starter package with toilet paper, kitchen paper, WC-refresher, washing machine tablets, trash bags,…
normal costs of water, gas and electricity are included
fast self check-in and check-out with smart lock and smart phone
More information about the rental procedure is described in the FAQ's.
Here you can also find information about the prices.
Entrance information for guests
Our workers house is very easy reachable by car.
There is free public parking space in the street.
The apartment is on the second floor and can be entered via the front entrance.
A smartphone is needed to be able to enter the building / apartment, because we provide you with a digital key.
More information about keys and the check-in & check-out can be found in the FAQ's.
 Sleeping arrangements



Interaction with guests
We don't live in this rental house but quite a distance away, we are mainly looking for renters who don't pay much attention to direct personal contact. You will have the full premises to yourselves. We won't be there but can be contacted via telephone, e-mail, What's App and text message. Full instructions on how to enter the house and other details will be sent to you shortly after you make the reservation.
Before arriving, we will contact you and provide you with the necessary information to make sure you can enter the property and have all the important information.
Other information about this staff house
In the street and the streets around, you can park for free. You can also park in the carport.
In Jabbeke, on a 5-min drive, you can find a variety of shops:
several bakeries and butchers
supermarkets: Delhaize, Okay, Aldi,…
several pharmacies
several bistros, pizzerias, pitta,…
House rules
We have arranged the staff house so that you can feel immediately and completely at home.
We offer you a clean and fresh house with new furniture and all necessary linen.
Everything is provided so that you only have to think about your clothes and food.
Therefore, we would particularly appreciate it if you would take care of our home as if you were looking after your own home.
So please take into account the following rules:
smoking in the house is not allowed, only on the terrace (provided that the cigarettes are cleaned up)
pets are not allowed
out of respect for the co-residents in the building, please be quiet at night between 10 pm and 7 am
when returning at home, please leave the house as described in the house rules
The most important other information can be found in the FAQ's or can be obtained from us.
So don't hesitate contact us!
Jabbeke is located at 3 km of this accommodation,...
Houtave is located at 3 km of this accommodation
Klemskerke is located at 4 km of this accommodation
Ettelgem is located at 4 km of this accommodation
Meetkerke is located at 5 km of this accommodation
Zerkegem is located at 5 km of this accommodation
Oudenburg is located at 5 km of this accommodation
Varsenare is located at 5 km of this accommodation
Vlissegem is located at 5 km of this accommodation
De Haan is located at 6 km of this accommodation
Bekegem is located at 6 km of this accommodation
Roksem is located at 6 km of this accommodation
Nieuwmunster is located at 6 km of this accommodation
Snellegem is located at 6 km of this accommodation
Westkerke is located at 6 km of this accommodation
Zandvoorde (Oostende) is located at 6 km of this accommodation
Bredene is located at 7 km of this accommodation
Sint-Andries is located at 7 km of this accommodation
Zuienkerke is located at 8 km of this accommodation
Brugge is located at 9 km of this accommodation
Wenduine is located at 9 km of this accommodation
Eernegem is located at 9 km of this accommodation
Zedelgem is located at 9 km of this accommodation
Sint-Michiels is located at 9 km of this accommodation
Gistel is located at 9 km of this accommodation
Snaaskerke is located at 10 km of this accommodation
Aartrijke is located at 10 km of this accommodation
Loppem is located at 10 km of this accommodation
Oostende is located at 11 km of this accommodation
Uitkerke is located at 11 km of this accommodation
Blankenberge is located at 11 km of this accommodation
Stene is located at 11 km of this accommodation
Koolkerke is located at 12 km of this accommodation
Lissewege is located at 12 km of this accommodation
Sint-Kruis (Brugge) is located at 12 km of this accommodation
Assebroek is located at 12 km of this accommodation
Dudzele is located at 12 km of this accommodation
Veldegem is located at 13 km of this accommodation
Zevekote is located at 13 km of this accommodation
Oostkamp is located at 13 km of this accommodation
Moere is located at 13 km of this accommodation
Zande is located at 14 km of this accommodation
Leffinge is located at 14 km of this accommodation
Ichtegem is located at 14 km of this accommodation
Zeebrugge (Brugge) is located at 15 km of this accommodation
Waardamme is located at 15 km of this accommodation
Koekelare is located at 15 km of this accommodation
Damme is located at 15 km of this accommodation
Torhout is located at 16 km of this accommodation
Ruddervoorde is located at 16 km of this accommodation
Slijpe is located at 16 km of this accommodation
Ramskapelle (Knokke-Heist) is located at 16 km of this accommodation
Oostkerke (Damme) is located at 17 km of this accommodation
Sijsele is located at 17 km of this accommodation
Leke is located at 17 km of this accommodation
Wilskerke is located at 17 km of this accommodation
Hertsberge is located at 18 km of this accommodation
Middelkerke is located at 18 km of this accommodation
Heist-aan-Zee is located at 18 km of this accommodation
Moerkerke is located at 18 km of this accommodation
Spermalie is located at 18 km of this accommodation
Bovekerke is located at 19 km of this accommodation
Oedelem is located at 19 km of this accommodation
Westkapelle is located at 19 km of this accommodation
Keiem is located at 19 km of this accommodation
Schore is located at 19 km of this accommodation
Hoeke is located at 20 km of this accommodation
Beernem is located at 20 km of this accommodation
Mannekensvere is located at 20 km of this accommodation
Kortemark is located at 20 km of this accommodation
Beerst is located at 21 km of this accommodation
Werken is located at 21 km of this accommodation
Knokke-Heist is located at 21 km of this accommodation
Vladslo is located at 21 km of this accommodation
Handzame is located at 21 km of this accommodation
Knokke is located at 21 km of this accommodation
Lapscheure is located at 21 km of this accommodation
Lichtervelde is located at 21 km of this accommodation
Westende is located at 22 km of this accommodation
Sint-Joris (Nieuwpoort) is located at 22 km of this accommodation
Wingene is located at 22 km of this accommodation
Zwevezele is located at 22 km of this accommodation
Sint-Joris (Beernem) is located at 22 km of this accommodation
Zarren is located at 23 km of this accommodation
Stuivekenskerke is located at 23 km of this accommodation
Lombardsijde is located at 23 km of this accommodation
Esen is located at 23 km of this accommodation
Diksmuide is located at 24 km of this accommodation
Middelburg is located at 24 km of this accommodation
Nieuwpoort is located at 24 km of this accommodation
Ramskapelle (Nieuwpoort) is located at 24 km of this accommodation
Pervijze is located at 24 km of this accommodation
Gits is located at 24 km of this accommodation
Kaaskerke is located at 25 km of this accommodation
Koolskamp is located at 25 km of this accommodation
Egem is located at 25 km of this accommodation
Knesselare is located at 25 km of this accommodation
Klerken is located at 26 km of this accommodation
Maldegem is located at 26 km of this accommodation
Oostkerke (Diksmuide) is located at 26 km of this accommodation
Hooglede is located at 26 km of this accommodation
Staden is located at 26 km of this accommodation
Houthulst is located at 27 km of this accommodation
Woumen is located at 27 km of this accommodation
Booitshoeke is located at 27 km of this accommodation
Pittem is located at 27 km of this accommodation
Beveren (Roeselare) is located at 27 km of this accommodation
Ardooie is located at 27 km of this accommodation
Sint-Jacobs-Kapelle is located at 27 km of this accommodation
Schuiferskapelle is located at 27 km of this accommodation
Wulpen is located at 28 km of this accommodation
Avekapelle is located at 28 km of this accommodation
Oudekapelle is located at 28 km of this accommodation
Oostduinkerke is located at 29 km of this accommodation
Aalter is located at 29 km of this accommodation
Roeselare is located at 29 km of this accommodation
Lampernisse is located at 29 km of this accommodation
Zoutenaaie is located at 29 km of this accommodation
Ruiselede is located at 29 km of this accommodation
Adegem is located at 29 km of this accommodation
Tielt is located at 29 km of this accommodation
Eggewaartskapelle is located at 30 km of this accommodation
Oostnieuwkerke is located at 30 km of this accommodation
Nieuwkapelle is located at 30 km of this accommodation
Ursel is located at 30 km of this accommodation
Koksijde is located at 31 km of this accommodation
Steenkerke (W.-Vl.) is located at 31 km of this accommodation
Rumbeke is located at 31 km of this accommodation
Beveren-aan-den-Ijzer is located at 31 km of this accommodation
Westrozebeke is located at 31 km of this accommodation
Poeke is located at 32 km of this accommodation
Veurne is located at 32 km of this accommodation
Kanegem is located at 32 km of this accommodation
Merkem is located at 32 km of this accommodation
Bellem is located at 32 km of this accommodation
Sint-Laureins is located at 32 km of this accommodation
Kachtem is located at 32 km of this accommodation
Oostwinkel is located at 32 km of this accommodation
Emelgem is located at 33 km of this accommodation
Sint-Margriete is located at 33 km of this accommodation
Poelkapelle is located at 33 km of this accommodation
Oekene is located at 33 km of this accommodation
Meulebeke is located at 33 km of this accommodation
Alveringem is located at 33 km of this accommodation
Oeren is located at 33 km of this accommodation
Lotenhulle is located at 33 km of this accommodation
Aarsele is located at 34 km of this accommodation
Lo-Reninge is located at 34 km of this accommodation
Izegem is located at 34 km of this accommodation
Noordschote is located at 34 km of this accommodation
Ronsele is located at 34 km of this accommodation
Ingelmunster is located at 34 km of this accommodation
Reninge is located at 34 km of this accommodation
Lo is located at 34 km of this accommodation
Eeklo is located at 34 km of this accommodation
Langemark-Poelkapelle is located at 35 km of this accommodation
Bikschote is located at 35 km of this accommodation
Langemark is located at 35 km of this accommodation
Pollinkhove is located at 35 km of this accommodation
Hansbeke is located at 35 km of this accommodation
Zomergem is located at 35 km of this accommodation
Passendale is located at 35 km of this accommodation
Sint-Jan-in-Eremo is located at 35 km of this accommodation
Bulskamp is located at 35 km of this accommodation
Moorslede is located at 35 km of this accommodation
De Panne is located at 36 km of this accommodation
Adinkerke is located at 36 km of this accommodation
Dentergem is located at 36 km of this accommodation
Wontergem is located at 36 km of this accommodation
Poesele is located at 36 km of this accommodation
Sint-Rijkers is located at 36 km of this accommodation
Vinkt is located at 36 km of this accommodation
Vinkem is located at 36 km of this accommodation
Wulveringem is located at 36 km of this accommodation
Beauvoorde is located at 36 km of this accommodation
Waarschoot is located at 37 km of this accommodation
Waterland-Oudeman is located at 37 km of this accommodation
Hoogstade is located at 37 km of this accommodation
Oostrozebeke is located at 37 km of this accommodation
Zuidschote is located at 37 km of this accommodation
Markegem is located at 37 km of this accommodation
Gijverinkhove is located at 38 km of this accommodation
Zeveren is located at 38 km of this accommodation
Grammene is located at 38 km of this accommodation
Merendree is located at 38 km of this accommodation
Gottem is located at 38 km of this accommodation
Lendelede is located at 38 km of this accommodation
Wakken is located at 38 km of this accommodation
Nevele is located at 38 km of this accommodation
Zonnebeke is located at 38 km of this accommodation
Boezinge is located at 38 km of this accommodation
Rollegem-Kapelle is located at 38 km of this accommodation
De Moeren is located at 38 km of this accommodation
Sint-Eloois-Winkel is located at 38 km of this accommodation
Izenberge is located at 38 km of this accommodation
Kaprijke is located at 38 km of this accommodation
Oostvleteren is located at 39 km of this accommodation
Oeselgem is located at 39 km of this accommodation
Lembeke is located at 39 km of this accommodation
Meigem is located at 39 km of this accommodation
Vleteren is located at 39 km of this accommodation
Houtem (W.-Vl.) is located at 39 km of this accommodation
Vosselare is located at 39 km of this accommodation
Landegem is located at 39 km of this accommodation
Watervliet is located at 39 km of this accommodation
Wielsbeke is located at 39 km of this accommodation
Woesten is located at 40 km of this accommodation
Leisele is located at 40 km of this accommodation
Hulste is located at 40 km of this accommodation
Deinze is located at 40 km of this accommodation
Elverdinge is located at 40 km of this accommodation
Sint-Jan is located at 40 km of this accommodation
Ooigem is located at 40 km of this accommodation
Ledegem is located at 40 km of this accommodation
Westvleteren is located at 40 km of this accommodation
Sint-Baafs-Vijve is located at 40 km of this accommodation
Dadizele is located at 40 km of this accommodation
Beselare is located at 40 km of this accommodation
Lovendegem is located at 40 km of this accommodation
Bachte-Maria-Leerne is located at 41 km of this accommodation
Sint-Eloois-Vijve is located at 41 km of this accommodation
Desselgem is located at 41 km of this accommodation
Petegem-aan-de-Leie is located at 41 km of this accommodation
Stavele is located at 41 km of this accommodation
Olsene is located at 41 km of this accommodation
Brielen is located at 41 km of this accommodation
Bavikhove is located at 41 km of this accommodation
Zulte is located at 41 km of this accommodation
Astene is located at 42 km of this accommodation
Moorsele is located at 42 km of this accommodation
Vinderhoute is located at 42 km of this accommodation
Bassevelde is located at 42 km of this accommodation
Geluveld is located at 42 km of this accommodation
Heule is located at 42 km of this accommodation
Kuurne is located at 42 km of this accommodation
Krombeke is located at 42 km of this accommodation
Gullegem is located at 42 km of this accommodation
Ieper is located at 42 km of this accommodation
Sint-Martens-Leerne is located at 42 km of this accommodation
Oosteeklo is located at 43 km of this accommodation
Zillebeke is located at 43 km of this accommodation
Vlamertinge is located at 43 km of this accommodation
Sleidinge is located at 43 km of this accommodation
Beveren (Leie) is located at 43 km of this accommodation
Deurle is located at 43 km of this accommodation
Waregem is located at 43 km of this accommodation
Drongen is located at 44 km of this accommodation
Bissegem is located at 44 km of this accommodation
Geluwe is located at 44 km of this accommodation
Harelbeke is located at 44 km of this accommodation
Deerlijk is located at 44 km of this accommodation
Wevelgem is located at 44 km of this accommodation
Sint-Martens-Latem is located at 44 km of this accommodation
Mariakerke (Gent) is located at 45 km of this accommodation
Boekhoute is located at 45 km of this accommodation
Roesbrugge-Haringe is located at 45 km of this accommodation
Zandvoorde (Zonnebeke) is located at 45 km of this accommodation
Kruishoutem is located at 45 km of this accommodation
Kortrijk is located at 45 km of this accommodation
Evergem is located at 45 km of this accommodation
Wondelgem is located at 46 km of this accommodation
Afsnee is located at 46 km of this accommodation
Sint-Denijs-Westrem is located at 46 km of this accommodation
Hollebeke is located at 46 km of this accommodation
Marke (Kortrijk) is located at 46 km of this accommodation
Proven is located at 46 km of this accommodation
Nazareth is located at 46 km of this accommodation
Kluizen is located at 46 km of this accommodation
Menen is located at 46 km of this accommodation
Dikkebus is located at 46 km of this accommodation
Voormezele is located at 46 km of this accommodation
Ertvelde is located at 47 km of this accommodation
Nokere is located at 47 km of this accommodation
Lauwe is located at 47 km of this accommodation
Assenede is located at 47 km of this accommodation
De Pinte is located at 47 km of this accommodation
Poperinge is located at 47 km of this accommodation
Vichte is located at 47 km of this accommodation
Wervik is located at 47 km of this accommodation
Houthem (Comines) is located at 48 km of this accommodation
Eke is located at 48 km of this accommodation
Komen-Waasten is located at 48 km of this accommodation
Gent is located at 48 km of this accommodation
Rekkem is located at 48 km of this accommodation
Comines-Warneton is located at 48 km of this accommodation
Zwevegem is located at 49 km of this accommodation
Aalbeke is located at 49 km of this accommodation
Oostakker is located at 49 km of this accommodation
Wijtschate is located at 49 km of this accommodation
Komen is located at 49 km of this accommodation
Reningelst is located at 49 km of this accommodation
Comines is located at 49 km of this accommodation
Wannegem-Lede is located at 49 km of this accommodation
Ouwegem is located at 49 km of this accommodation
Wortegem-Petegem is located at 50 km of this accommodation
Wortegem is located at 50 km of this accommodation
Ledeberg (Gent) is located at 50 km of this accommodation
Ingooigem is located at 50 km of this accommodation
Huise is located at 50 km of this accommodation
Desteldonk is located at 50 km of this accommodation
Bellegem is located at 50 km of this accommodation
Ooike (Wortegem-Petegem) is located at 50 km of this accommodation
Watou is located at 50 km of this accommodation
Zevergem is located at 50 km of this accommodation
Kemmel is located at 50 km of this accommodation
Zwijnaarde is located at 50 km of this accommodation
Sint-Amandsberg (Gent) is located at 50 km of this accommodation