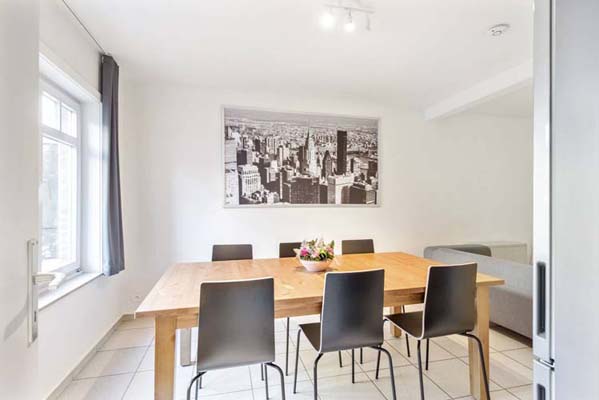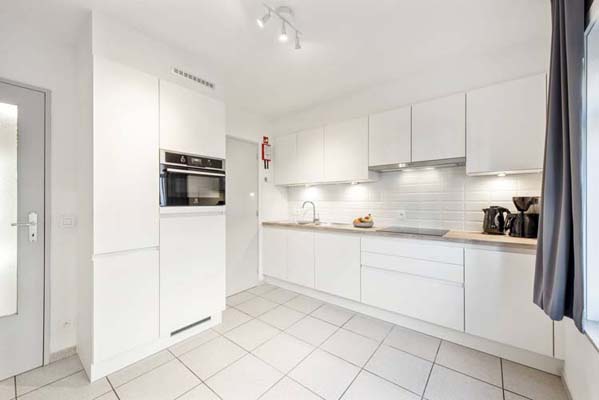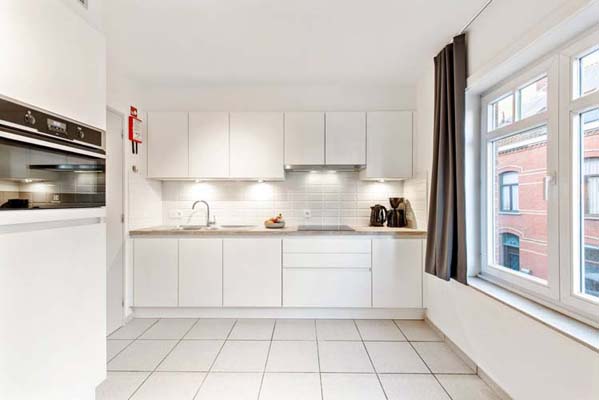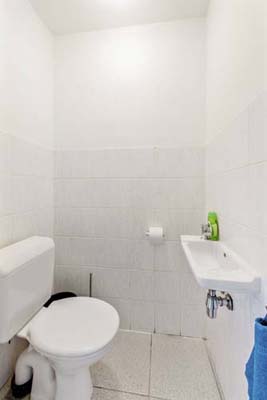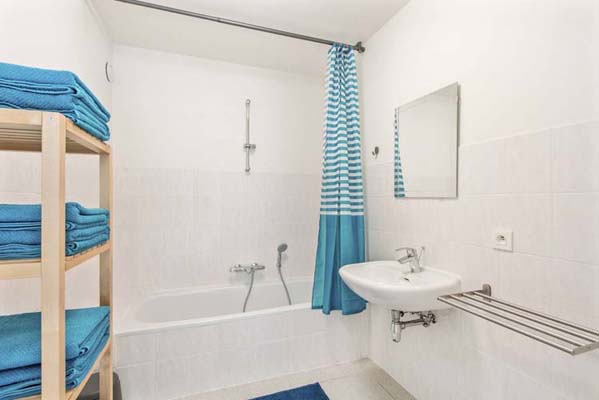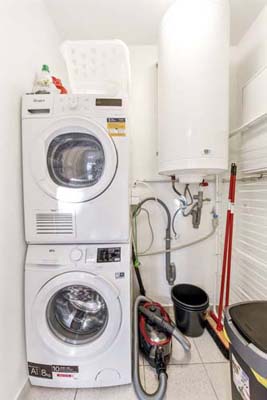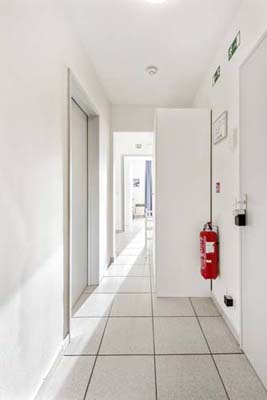 Kalbergstay 6 – Oostrozebeke
8780 Oostrozebeke – +32 (0)471 25 64 03












Our fully renovated apartments with its perfect location in Oostrozebeke center and close connection to the E17 makes this the ideal home if you are looking for staff housing that can accommodate up to 10 people.
The flats are centrally located between Waregem (12 min), Deinze (23 min), Gent (35 min), Aalter (27 min), Tielt (14 min), Roeselare (25 min), Kortrijk (20 min).
This workers houses are aimed at and arranged to suit especially 8 to 10 employees / flex workers / labor migrants.
Our furnished all-in accommodation has:
fast & unlimited WIFI (internet) in the whole apartment for easy communication with home
4 practical and warm bedrooms with obscuring curtains, one with a bunk bed and three having two single beds, each bed with multiple bed linen
2 big living rooms with a cozy lounge, the living rooms contain a loft bed for the 9th and 10th person
2 fully equipped brand new kitchens each with dishwasher, 2 fridges & a freezer, but also pots, pans and cutlery for easy cooking & food storage
2 bathrooms with bath/shower with multiple bath linen for each person
2 washing machines & dryers for easy laundering
2 neat large terraces (outdoor furniture is not provided)
2 smart TV's (only internet, no cable)
cleaning material for cleaning the apartments in between
a starter package with toilet paper, kitchen paper, WC-refresher, dishwasher tablets, washing machine tablets, trash bags,…
normal costs of water, gas and electricity are included
fast self check-in and check-out with smart lock and smart phone
More information about the rental procedure is described in the FAQ's.
Here you can also find information about the prices.
Entrance information for guests
Our workers houses are very easy reachable by car.
There is free public parking space in the street in front and in the back of the building.
The apartments are on the ground floor and can be entered via the front or back entrance.
A smartphone is needed to be able to enter the building / apartment, because we provide you with a digital key.
More information about keys and the check-in & check-out can be found in the FAQ's.
 Sleeping arrangements 

Bedroom 2
1 bunk bed (2 beds)


Common space 1
1 loft bed (1 bed)
Common space 2
1 loft bed (1 bed)
Interaction with guests
We don't live in this rental house but quite a distance away, we are mainly looking for renters who don't pay much attention to direct personal contact. You will have the full premises to yourselves. We won't be there but can be contacted via telephone, e-mail, What's App and text message. Full instructions on how to enter the house and other details will be sent to you shortly after you make the reservation.
Before arriving, we will contact you and provide you with the necessary information to make sure you can enter the property and have all the important information.
Other information about this staff house
There is a variety of shops at just 200 m away!
supermarket Aldi at 200 m
supermarket Colruyt at 1 km
bakery, butcher, restaurant, pub, petrol station, bank, pharmacy, newspaper shop,…all within less than 1 km!

House rules
We have arranged the staff house so that you can feel immediately and completely at home.
We offer you a clean and fresh house with new furniture and all necessary linen.
Everything is provided so that you only have to think about your clothes and food.
Therefore, we would particularly appreciate it if you would take care of our home as if you were looking after your own home.
So please take into account the following rules:
smoking in the house is not allowed, only on the terrace (provided that the cigarettes are cleaned up)
pets are not allowed
out of respect for the co-residents in the building, please be quiet at night between 10 pm and 7 am
when returning at home, please leave the house as described in the house rules
The most important other information can be found in the FAQ's or can be obtained from us.
So don't hesitate contact us!
Wielsbeke is located at 2 km of this accommodation,...
Ooigem is located at 2 km of this accommodation
Desselgem is located at 3 km of this accommodation
Wakken is located at 4 km of this accommodation
Sint-Baafs-Vijve is located at 4 km of this accommodation
Meulebeke is located at 4 km of this accommodation
Ingelmunster is located at 5 km of this accommodation
Markegem is located at 5 km of this accommodation
Bavikhove is located at 5 km of this accommodation
Hulste is located at 5 km of this accommodation
Sint-Eloois-Vijve is located at 5 km of this accommodation
Dentergem is located at 7 km of this accommodation
Waregem is located at 7 km of this accommodation
Oeselgem is located at 7 km of this accommodation
Deerlijk is located at 7 km of this accommodation
Lendelede is located at 7 km of this accommodation
Zulte is located at 7 km of this accommodation
Izegem is located at 8 km of this accommodation
Kuurne is located at 8 km of this accommodation
Emelgem is located at 8 km of this accommodation
Harelbeke is located at 8 km of this accommodation
Tielt is located at 8 km of this accommodation
Olsene is located at 9 km of this accommodation
Pittem is located at 9 km of this accommodation
Aarsele is located at 10 km of this accommodation
Gottem is located at 10 km of this accommodation
Wontergem is located at 10 km of this accommodation
Vichte is located at 10 km of this accommodation
Kachtem is located at 10 km of this accommodation
Egem is located at 11 km of this accommodation
Ardooie is located at 11 km of this accommodation
Sint-Eloois-Winkel is located at 11 km of this accommodation
Heule is located at 11 km of this accommodation
Grammene is located at 11 km of this accommodation
Kanegem is located at 11 km of this accommodation
Schuiferskapelle is located at 12 km of this accommodation
Kortrijk is located at 12 km of this accommodation
Koolskamp is located at 12 km of this accommodation
Oekene is located at 12 km of this accommodation
Rumbeke is located at 12 km of this accommodation
Gullegem is located at 12 km of this accommodation
Zwevegem is located at 12 km of this accommodation
Nokere is located at 12 km of this accommodation
Beveren (Leie) is located at 12 km of this accommodation
Bissegem is located at 13 km of this accommodation
Otegem is located at 13 km of this accommodation
Ingooigem is located at 13 km of this accommodation
Vinkt is located at 14 km of this accommodation
Beveren (Roeselare) is located at 14 km of this accommodation
Anzegem is located at 14 km of this accommodation
Wortegem is located at 14 km of this accommodation
Marke (Kortrijk) is located at 14 km of this accommodation
Kruishoutem is located at 14 km of this accommodation
Ruiselede is located at 14 km of this accommodation
Rollegem-Kapelle is located at 14 km of this accommodation
Moorsele is located at 14 km of this accommodation
Wortegem-Petegem is located at 14 km of this accommodation
Roeselare is located at 14 km of this accommodation
Zeveren is located at 14 km of this accommodation
Poeke is located at 15 km of this accommodation
Petegem-aan-de-Leie is located at 15 km of this accommodation
Tiegem is located at 15 km of this accommodation
Gijzelbrechtegem is located at 15 km of this accommodation
Wingene is located at 15 km of this accommodation
Wevelgem is located at 15 km of this accommodation
Wannegem-Lede is located at 15 km of this accommodation
Zwevezele is located at 15 km of this accommodation
Deinze is located at 15 km of this accommodation
Lotenhulle is located at 16 km of this accommodation
Heestert is located at 16 km of this accommodation
Bellegem is located at 16 km of this accommodation
Ledegem is located at 16 km of this accommodation
Ooike (Wortegem-Petegem) is located at 16 km of this accommodation
Kaster is located at 16 km of this accommodation
Avelgem is located at 17 km of this accommodation
Aalbeke is located at 17 km of this accommodation
Lichtervelde is located at 17 km of this accommodation
Astene is located at 17 km of this accommodation
Waarmaarde is located at 17 km of this accommodation
Rollegem is located at 17 km of this accommodation
Moregem is located at 17 km of this accommodation
Poesele is located at 17 km of this accommodation
Elsegem is located at 17 km of this accommodation
Meigem is located at 17 km of this accommodation
Kerkhove is located at 17 km of this accommodation
Lauwe is located at 17 km of this accommodation
Moen is located at 17 km of this accommodation
Hooglede is located at 18 km of this accommodation
Petegem-aan-de-Schelde is located at 18 km of this accommodation
Berchem (O.-Vl.) is located at 18 km of this accommodation
Dadizele is located at 18 km of this accommodation
Aalter is located at 18 km of this accommodation
Gits is located at 18 km of this accommodation
Ouwegem is located at 18 km of this accommodation
Sint-Denijs is located at 18 km of this accommodation
Nazareth is located at 18 km of this accommodation
Huise is located at 18 km of this accommodation
Vosselare is located at 19 km of this accommodation
Melden is located at 19 km of this accommodation
Bossuit is located at 19 km of this accommodation
Mullem is located at 19 km of this accommodation
Outrijve is located at 19 km of this accommodation
Oostnieuwkerke is located at 19 km of this accommodation
Bevere is located at 19 km of this accommodation
Escanaffles is located at 19 km of this accommodation
Rekkem is located at 19 km of this accommodation
Nevele is located at 19 km of this accommodation
Bachte-Maria-Leerne is located at 19 km of this accommodation
Kluisbergen is located at 19 km of this accommodation
Moorslede is located at 19 km of this accommodation
Ruien is located at 19 km of this accommodation
Menen is located at 20 km of this accommodation
Sint-Martens-Leerne is located at 20 km of this accommodation
Eine is located at 20 km of this accommodation
Oudenaarde is located at 20 km of this accommodation
Kooigem is located at 20 km of this accommodation
Kwaremont is located at 20 km of this accommodation
Hertsberge is located at 21 km of this accommodation
Leupegem is located at 21 km of this accommodation
Dottignies is located at 21 km of this accommodation
Moeskroen is located at 21 km of this accommodation
Nederename is located at 21 km of this accommodation
Dottenijs is located at 21 km of this accommodation
Helkijn is located at 21 km of this accommodation
Espierres-Helchin is located at 21 km of this accommodation
Luingne is located at 21 km of this accommodation
Mouscron is located at 21 km of this accommodation
Ruddervoorde is located at 21 km of this accommodation
Heurne is located at 21 km of this accommodation
Deurle is located at 21 km of this accommodation
Helchin is located at 21 km of this accommodation
Pottes is located at 21 km of this accommodation
Eke is located at 21 km of this accommodation
Bellem is located at 21 km of this accommodation
Orroir is located at 21 km of this accommodation
Geluwe is located at 21 km of this accommodation
Spiere-Helkijn is located at 21 km of this accommodation
Spiere is located at 22 km of this accommodation
Passendale is located at 22 km of this accommodation
Hansbeke is located at 22 km of this accommodation
Waardamme is located at 22 km of this accommodation
Asper is located at 22 km of this accommodation
Welden is located at 22 km of this accommodation
Zingem is located at 22 km of this accommodation
Edelare is located at 22 km of this accommodation
Zulzeke is located at 22 km of this accommodation
Ename is located at 22 km of this accommodation
Nukerke is located at 22 km of this accommodation
Westrozebeke is located at 22 km of this accommodation
Espierres is located at 22 km of this accommodation
Landegem is located at 22 km of this accommodation
Saint-Léger (Ht.) is located at 23 km of this accommodation
Evregnies is located at 23 km of this accommodation
Etikhove is located at 23 km of this accommodation
De Pinte is located at 23 km of this accommodation
Amougies is located at 23 km of this accommodation
Staden is located at 23 km of this accommodation
Sint-Martens-Lisem is located at 23 km of this accommodation
Herseaux is located at 23 km of this accommodation
Beselare is located at 23 km of this accommodation
Kortemark is located at 23 km of this accommodation
Sint-Joris (Beernem) is located at 23 km of this accommodation
Veldegem is located at 23 km of this accommodation
Volkegem is located at 23 km of this accommodation
Semmerzake is located at 23 km of this accommodation
Russeignies is located at 23 km of this accommodation
Torhout is located at 23 km of this accommodation
Mont-de-l'Enclus is located at 23 km of this accommodation
Gavere is located at 23 km of this accommodation
Estaimpuis is located at 23 km of this accommodation
Vurste is located at 24 km of this accommodation
Merendree is located at 24 km of this accommodation
Celles (Ht.) is located at 24 km of this accommodation
Nederzwalm-Hermelgem is located at 24 km of this accommodation
Miser is located at 24 km of this accommodation
Dikkelvenne is located at 24 km of this accommodation
Hérinnes-lez-Pecq is located at 24 km of this accommodation
Pecq is located at 24 km of this accommodation
Beernem is located at 24 km of this accommodation
Warcoing is located at 24 km of this accommodation
Zonnebeke is located at 24 km of this accommodation
Knesselare is located at 24 km of this accommodation
Geluveld is located at 25 km of this accommodation
Anseroeul is located at 25 km of this accommodation
Wervik is located at 25 km of this accommodation
Maarkedal is located at 25 km of this accommodation
Melsen is located at 25 km of this accommodation
Maarke-Kerkem is located at 25 km of this accommodation
Ursel is located at 25 km of this accommodation
Sint-Denijs-Westrem is located at 25 km of this accommodation
Meilegem is located at 25 km of this accommodation
Renaix is located at 26 km of this accommodation
Zevergem is located at 26 km of this accommodation
Arc-Wistripont is located at 26 km of this accommodation
Ronse is located at 26 km of this accommodation
Drongen is located at 26 km of this accommodation
Zomergem is located at 26 km of this accommodation
Molenbaix is located at 26 km of this accommodation
Afsnee is located at 26 km of this accommodation
Paulisem is located at 26 km of this accommodation
Horebeke is located at 26 km of this accommodation
Sint-Maria-Lisem is located at 26 km of this accommodation
Sint-Maria-Horebeke is located at 26 km of this accommodation
Leers-Nord is located at 26 km of this accommodation
Estaimbourg is located at 26 km of this accommodation
Wistripont is located at 26 km of this accommodation
Handzame is located at 26 km of this accommodation
Poelkapelle is located at 26 km of this accommodation
Beerlegem is located at 26 km of this accommodation
Oedelem is located at 27 km of this accommodation
Aartrijke is located at 27 km of this accommodation
Schelderode is located at 27 km of this accommodation
Ronsele is located at 27 km of this accommodation
Oostkamp is located at 27 km of this accommodation
Sint-Denijs-Boekel is located at 27 km of this accommodation
Schorisse is located at 27 km of this accommodation
Baaigem is located at 27 km of this accommodation
Bailleul is located at 27 km of this accommodation
Zwijnaarde is located at 27 km of this accommodation
Loppem is located at 27 km of this accommodation
Sint-Kornelis-Horebeke is located at 27 km of this accommodation
Zandvoorde (Zonnebeke) is located at 27 km of this accommodation
Houthulst is located at 27 km of this accommodation
Arc-Ainières is located at 28 km of this accommodation
Zedelgem is located at 28 km of this accommodation
Comines-Warneton is located at 28 km of this accommodation
Frasnes-lez-Anvaing is located at 28 km of this accommodation
Komen is located at 28 km of this accommodation
Werken is located at 28 km of this accommodation
Zarren is located at 28 km of this accommodation
Dergneau is located at 28 km of this accommodation
Comines is located at 28 km of this accommodation
Esquelmes is located at 28 km of this accommodation
Vinderhoute is located at 28 km of this accommodation
Munkzwalm is located at 28 km of this accommodation
Dikkele is located at 28 km of this accommodation
Sint-Blasius-Boekel is located at 28 km of this accommodation
Munte is located at 28 km of this accommodation
Néchin is located at 28 km of this accommodation
Oostwinkel is located at 28 km of this accommodation
Komen-Waasten is located at 28 km of this accommodation
Obigies is located at 28 km of this accommodation
Zwalm is located at 28 km of this accommodation
Roborst is located at 29 km of this accommodation
Houthem (Comines) is located at 29 km of this accommodation
Mariakerke (Gent) is located at 29 km of this accommodation
Zegelsem is located at 29 km of this accommodation
Hundelgem is located at 29 km of this accommodation
Velaines is located at 29 km of this accommodation
Mont-Saint-Aubert is located at 29 km of this accommodation
Cordes is located at 29 km of this accommodation
Langemark-Poelkapelle is located at 29 km of this accommodation
Lovendegem is located at 29 km of this accommodation
Merelbeke is located at 29 km of this accommodation
Ramegnies-Chin is located at 29 km of this accommodation
Langemark is located at 29 km of this accommodation
Ichtegem is located at 29 km of this accommodation
Bottelare is located at 29 km of this accommodation
Mourcourt is located at 30 km of this accommodation
Elst is located at 30 km of this accommodation
Rozebeke is located at 30 km of this accommodation
Sint-Jan is located at 30 km of this accommodation
Anvaing is located at 30 km of this accommodation
Zillebeke is located at 30 km of this accommodation
Sint-Michiels is located at 30 km of this accommodation
Saint-Sauveur is located at 30 km of this accommodation
Templeuve is located at 30 km of this accommodation
Bovekerke is located at 30 km of this accommodation
Hollebeke is located at 30 km of this accommodation
Forest (Ht.) is located at 30 km of this accommodation