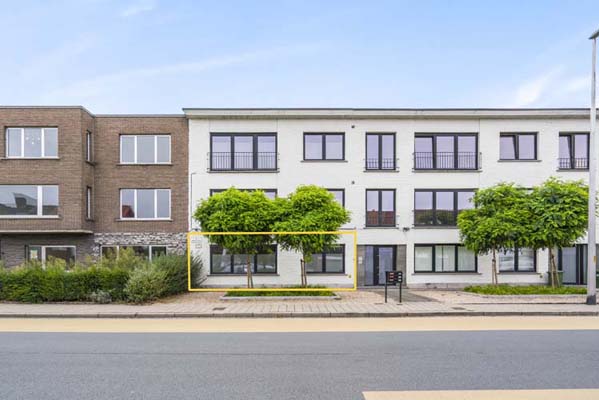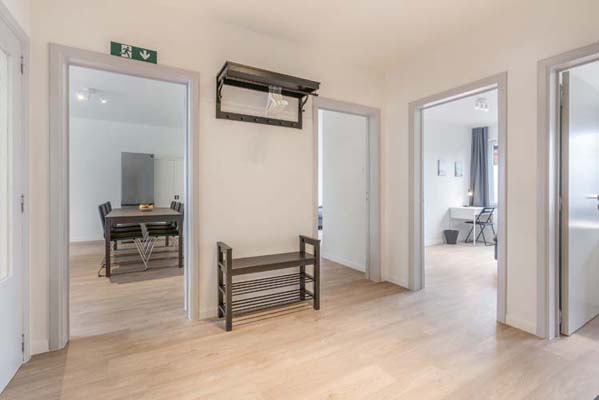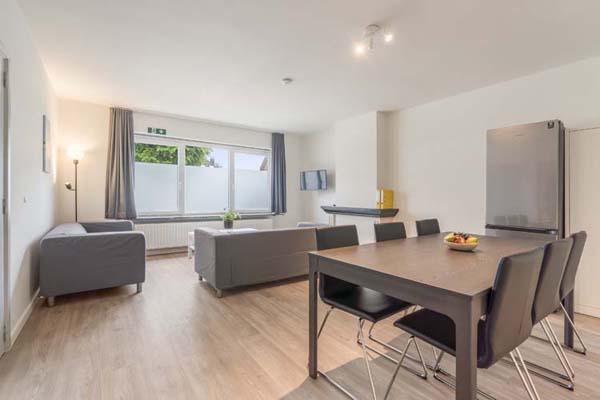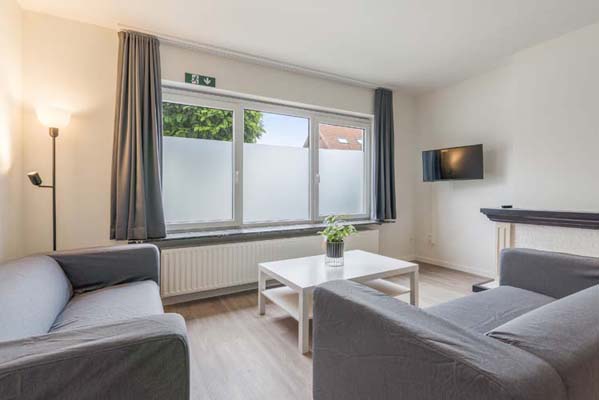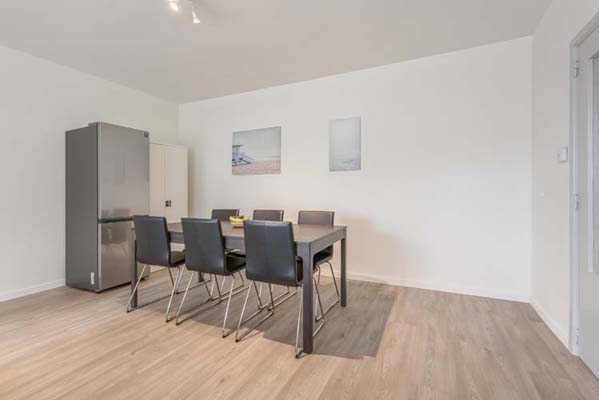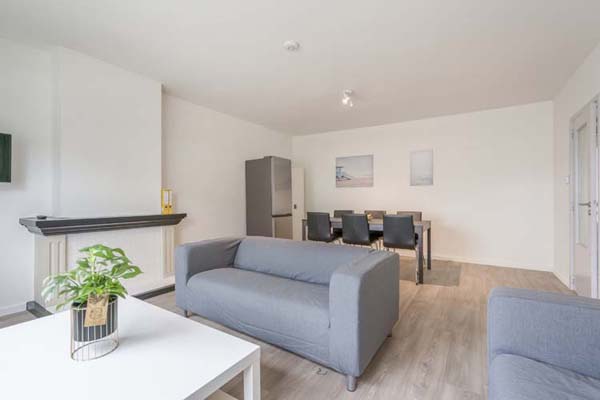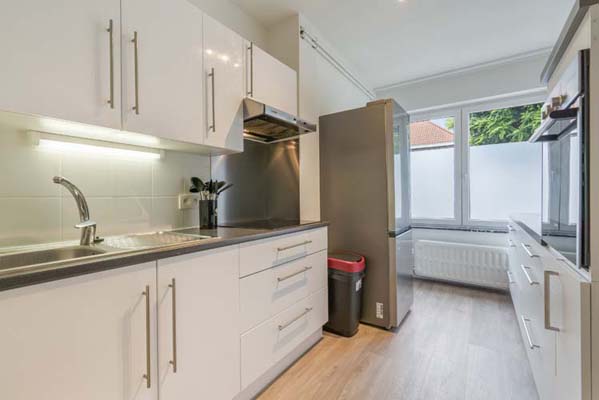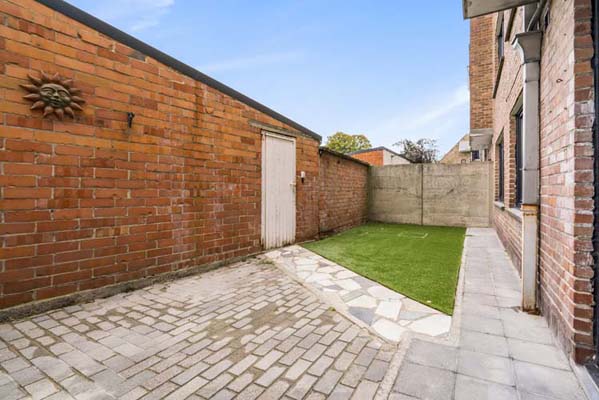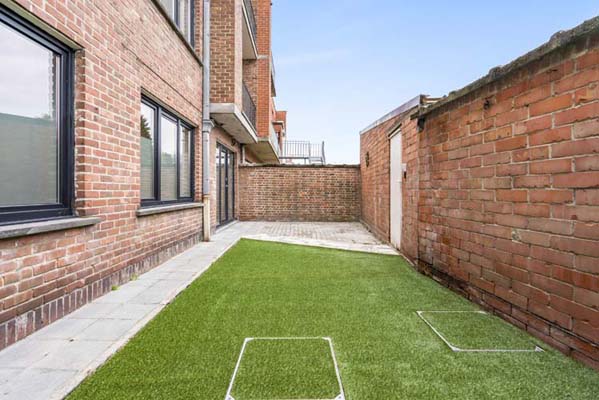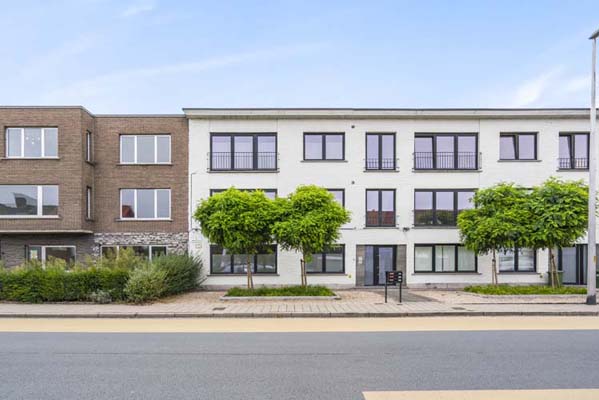 9032 Wondelgem – +32 486 82 03 69












The furnished apartments have the perfect location in Gent close to the R4, which directly leads to the E17, E40 and the E34.
The furnished flats are centrally located between Terneuzen, Zelzate, Lokeren, Sint-Niklaas, Dendermonde, Aalst, Oudenaarde, Waregem, Deinze, Aalter, Eeklo.
Our furnished all-in accommodation has:
fast & unlimited WIFI (internet) in the whole apartment for easy communication with home
3 practical and warm bedrooms with obscuring curtains, one with one single bed, two with two single beds, each bed with multiple bed linen
a fully equipped kitchen with 2 fridges & a freezer, but also pots, pans and cutlery for easy cooking & food storage
a bathroom with shower with multiple bath linen for each person
a washing machine & dryer for easy laundering
a smart TV (internet & cable)
a small terrace (outdoor furniture is not provided)
cleaning material for cleaning the apartment in between
starter package with toilet paper, kitchen paper, WC-refresher, dishwasher tablets, washing machine tablets, trash bags,…
normal costs of water, gas and electricity are included
fast self-check-in and check-out with smart lock and smart phone
More information about the rental procedure is described in the FAQ's.
Here you can also find information about the prices.
Entrance information for guests
Our workers house is very easy reachable by car.
There are 2 parking spaces included per apartment behind the building.
A smartphone is needed to be able to enter the building / apartment, because we provide you with a digital key.
More information about keys and the check-in & check-out can be found in the FAQ's.
 Sleeping arrangements 



Interaction with guests
We don't live in this rental house but quite a distance away, we are mainly looking for renters who don't pay much attention to direct personal contact. You will have the full premises to yourselves. We won't be there but can be contacted via telephone, e-mail, What's App and text message. Full instructions on how to enter the house and other details will be sent to you shortly after you make the reservation.
Before arriving, we will contact you and provide you with the necessary information to make sure you can enter the property and have all the important information.
Other information about this staff house
On the Morekstraat you can find a variety of shops.
a bakery a bit further (400 m) in the sidestreet Serafien van Cauwenbergelaan
a butcher a bit further (400 m) in the sidestreet Molenstraat
a supermarket ALDI at nr 276, LIDL at nr 516
On the Botestraat, you can find supermarket COLRUYT at nr. 23 and DELHAIZE at nr 14.
House rules
We have arranged the staff house so that you can feel immediately and completely at home.
We offer you a clean and fresh house with new furniture and all necessary linen.
Everything is provided so that you only have to think about your clothes and food.
Therefore, we would particularly appreciate it if you would take care of our home as if you were looking after your own home.
So please take into account the following rules:
smoking in the house is not allowed, only on the terrace (provided that the cigarettes are cleaned up)
pets are not allowed
out of respect for the co-residents in the building, please be quiet at night between 10 pm and 7 am
when returning at home, please leave the house as described in the house rules
The most important other information can be found in the FAQ's or can be obtained from us.
So don't hesitate to contact us!
Evergem is located at 2 km of this accommodation,...
Gent is located at 2 km of this accommodation
Mariakerke (Gent) is located at 3 km of this accommodation
Oostakker is located at 3 km of this accommodation
Sint-Amandsberg (Gent) is located at 4 km of this accommodation
Vinderhoute is located at 5 km of this accommodation
Desteldonk is located at 5 km of this accommodation
Sleidinge is located at 5 km of this accommodation
Lovendegem is located at 6 km of this accommodation
Ledeberg (Gent) is located at 6 km of this accommodation
Drongen is located at 6 km of this accommodation
Kluizen is located at 7 km of this accommodation
Destelbergen is located at 7 km of this accommodation
Gentbrugge is located at 7 km of this accommodation
Afsnee is located at 7 km of this accommodation
Sint-Denijs-Westrem is located at 8 km of this accommodation
Lochristi is located at 8 km of this accommodation
Merendree is located at 9 km of this accommodation
Mendonk is located at 9 km of this accommodation
Heusden (O.-Vl.) is located at 9 km of this accommodation
Sint-Kruis-Winkel is located at 10 km of this accommodation
Waarschoot is located at 10 km of this accommodation
Ertvelde is located at 10 km of this accommodation
Zwijnaarde is located at 10 km of this accommodation
Sint-Martens-Latem is located at 10 km of this accommodation
Landegem is located at 10 km of this accommodation
Beervelde is located at 11 km of this accommodation
Oosteeklo is located at 11 km of this accommodation
Zaffelare is located at 11 km of this accommodation
Merelbeke is located at 11 km of this accommodation
Zomergem is located at 11 km of this accommodation
De Pinte is located at 11 km of this accommodation
Melle is located at 11 km of this accommodation
Deurle is located at 11 km of this accommodation
Laarne is located at 11 km of this accommodation
Zevergem is located at 12 km of this accommodation
Lembeke is located at 12 km of this accommodation
Sint-Martens-Leerne is located at 12 km of this accommodation
Zeveneken is located at 12 km of this accommodation
Ronsele is located at 12 km of this accommodation
Hansbeke is located at 12 km of this accommodation
Lemberge is located at 13 km of this accommodation
Zelzate is located at 13 km of this accommodation
Wachtebeke is located at 13 km of this accommodation
Vosselare is located at 13 km of this accommodation
Schelderode is located at 13 km of this accommodation
Nevele is located at 13 km of this accommodation
Gontrode is located at 13 km of this accommodation
Bachte-Maria-Leerne is located at 13 km of this accommodation
Meigem is located at 14 km of this accommodation
Oostwinkel is located at 14 km of this accommodation
Bottelare is located at 14 km of this accommodation
Landskouter is located at 14 km of this accommodation
Melsen is located at 15 km of this accommodation
Wetteren is located at 15 km of this accommodation
Assenede is located at 15 km of this accommodation
Vurste is located at 15 km of this accommodation
Bellem is located at 15 km of this accommodation
Bassevelde is located at 15 km of this accommodation
Gijzenzele is located at 15 km of this accommodation
Kalken is located at 15 km of this accommodation
Poesele is located at 15 km of this accommodation
Eeklo is located at 15 km of this accommodation
Eke is located at 15 km of this accommodation
Moortsele is located at 15 km of this accommodation
Munte is located at 16 km of this accommodation
Westrem is located at 16 km of this accommodation
Semmerzake is located at 16 km of this accommodation
Ursel is located at 16 km of this accommodation
Massemen is located at 16 km of this accommodation
Nazareth is located at 16 km of this accommodation
Kaprijke is located at 16 km of this accommodation
Astene is located at 16 km of this accommodation
Overmere is located at 16 km of this accommodation
Deinze is located at 17 km of this accommodation
Oosterzele is located at 17 km of this accommodation
Scheldewindeke is located at 17 km of this accommodation
Schellebelle is located at 17 km of this accommodation
Petegem-aan-de-Leie is located at 17 km of this accommodation
Baaigem is located at 17 km of this accommodation
Moerbeke-Waas is located at 18 km of this accommodation
Eksaarde is located at 18 km of this accommodation
Vinkt is located at 18 km of this accommodation
Uitbergen is located at 18 km of this accommodation
Gavere is located at 18 km of this accommodation
Serskamp is located at 18 km of this accommodation
Zeveren is located at 18 km of this accommodation
Boekhoute is located at 18 km of this accommodation
Lotenhulle is located at 18 km of this accommodation
Poeke is located at 19 km of this accommodation
Bavegem is located at 19 km of this accommodation
Lokeren is located at 19 km of this accommodation
Asper is located at 19 km of this accommodation
Oordegem is located at 19 km of this accommodation
Daknam is located at 19 km of this accommodation
Balegem is located at 19 km of this accommodation
Aalter is located at 19 km of this accommodation
Dikkelvenne is located at 19 km of this accommodation
Smetlede is located at 20 km of this accommodation
Beerlegem is located at 20 km of this accommodation
Dikkele is located at 20 km of this accommodation
Meilegem is located at 20 km of this accommodation
Sint-Laureins is located at 20 km of this accommodation
Wichelen is located at 20 km of this accommodation
Adegem is located at 20 km of this accommodation
Letterhoutem is located at 21 km of this accommodation
Wanzele is located at 21 km of this accommodation
Grammene is located at 21 km of this accommodation
Knesselare is located at 21 km of this accommodation
Paulatem is located at 21 km of this accommodation
Impe is located at 21 km of this accommodation
Berlare is located at 21 km of this accommodation
Ouwegem is located at 21 km of this accommodation
Zingem is located at 21 km of this accommodation
Sint-Lievens-Houtem is located at 21 km of this accommodation
Vlierzele is located at 21 km of this accommodation
Watervliet is located at 21 km of this accommodation
Kruishoutem is located at 22 km of this accommodation
Lede is located at 22 km of this accommodation
Oombergen (Zottegem) is located at 22 km of this accommodation
Ruiselede is located at 22 km of this accommodation
Zele is located at 22 km of this accommodation
Maldegem is located at 22 km of this accommodation
Gottem is located at 22 km of this accommodation
Nederzwalm-Hermelgem is located at 22 km of this accommodation
Wontergem is located at 22 km of this accommodation
Hundelgem is located at 22 km of this accommodation
Zonnegem is located at 22 km of this accommodation
Vlekkem is located at 22 km of this accommodation
Sint-Jan-in-Eremo is located at 22 km of this accommodation
Sint-Maria-Latem is located at 22 km of this accommodation
Mullem is located at 23 km of this accommodation
Waterland-Oudeman is located at 23 km of this accommodation
Zwalm is located at 23 km of this accommodation
Ottergem is located at 23 km of this accommodation
Kanegem is located at 23 km of this accommodation
Elene is located at 23 km of this accommodation
Aarsele is located at 23 km of this accommodation
Bambrugge is located at 23 km of this accommodation
Velzeke-Ruddershove is located at 23 km of this accommodation
Schoonaarde is located at 23 km of this accommodation
Erondegem is located at 23 km of this accommodation
Huise is located at 23 km of this accommodation
Leeuwergem is located at 23 km of this accommodation
Hillegem is located at 23 km of this accommodation
Heurne is located at 23 km of this accommodation
Welden is located at 23 km of this accommodation
Munkzwalm is located at 23 km of this accommodation
Olsene is located at 24 km of this accommodation
Sint-Margriete is located at 24 km of this accommodation
Appels is located at 24 km of this accommodation
Burst is located at 24 km of this accommodation
Borsbeke is located at 24 km of this accommodation
Sint-Joris (Beernem) is located at 24 km of this accommodation
Sinaai-Waas is located at 24 km of this accommodation
Wannegem-Lede is located at 25 km of this accommodation
Zottegem is located at 25 km of this accommodation
Erpe-Mere is located at 25 km of this accommodation
Erpe is located at 25 km of this accommodation
Waasmunster is located at 25 km of this accommodation
Oudegem is located at 25 km of this accommodation
Ressegem is located at 25 km of this accommodation
Sint-Denijs-Boekel is located at 25 km of this accommodation
Roborst is located at 25 km of this accommodation
Grotenberge is located at 25 km of this accommodation
Nederename is located at 25 km of this accommodation
Strijpen is located at 25 km of this accommodation
Eine is located at 25 km of this accommodation
Hofstade (O.-Vl.) is located at 25 km of this accommodation
Dentergem is located at 25 km of this accommodation
Mere is located at 25 km of this accommodation
Oeselgem is located at 26 km of this accommodation
Rozebeke is located at 26 km of this accommodation
Sint-Goriks-Oudenhove is located at 26 km of this accommodation
Belsele (Sint-Niklaas) is located at 26 km of this accommodation
Sint-Blasius-Boekel is located at 26 km of this accommodation
Mespelare is located at 26 km of this accommodation
Beernem is located at 26 km of this accommodation
Zulte is located at 26 km of this accommodation
Nokere is located at 26 km of this accommodation
Godveerdegem is located at 26 km of this accommodation
Ename is located at 26 km of this accommodation
Stekene is located at 26 km of this accommodation
Gijzegem is located at 26 km of this accommodation
Oedelem is located at 27 km of this accommodation
Bevere is located at 27 km of this accommodation
Herdersem is located at 27 km of this accommodation
Sint-Maria-Horebeke is located at 27 km of this accommodation
Schuiferskapelle is located at 27 km of this accommodation
Mater is located at 27 km of this accommodation
Aaigem is located at 27 km of this accommodation
Markegem is located at 27 km of this accommodation
Ooike (Wortegem-Petegem) is located at 27 km of this accommodation
Middelburg is located at 27 km of this accommodation
Dendermonde is located at 27 km of this accommodation
Woubrechtegem is located at 27 km of this accommodation
Nieuwerkerken (Aalst) is located at 27 km of this accommodation
Grembergen is located at 27 km of this accommodation
Erwetegem is located at 27 km of this accommodation
Kemzeke is located at 28 km of this accommodation
Volkegem is located at 28 km of this accommodation
Wakken is located at 28 km of this accommodation
Aalst is located at 28 km of this accommodation
Sint-Pauwels is located at 28 km of this accommodation
Wieze is located at 28 km of this accommodation
Michelbeke is located at 28 km of this accommodation
Sint-Lievens-Esse is located at 28 km of this accommodation
Elst is located at 28 km of this accommodation
Oudenaarde is located at 28 km of this accommodation
Moregem is located at 28 km of this accommodation
Sint-Kornelis-Horebeke is located at 28 km of this accommodation
Sint-Gillis-bij-Dendermonde is located at 28 km of this accommodation
Horebeke is located at 28 km of this accommodation
Denderbelle is located at 28 km of this accommodation
Heldergem is located at 29 km of this accommodation
Steenhuize-Wijnhuize is located at 29 km of this accommodation
Lebbeke is located at 29 km of this accommodation
Kerksken is located at 29 km of this accommodation
Sint-Maria-Oudenhove (Zottegem) is located at 29 km of this accommodation
Sint-Eloois-Vijve is located at 29 km of this accommodation
Hamme (O.-Vl.) is located at 29 km of this accommodation
Herzele is located at 29 km of this accommodation
Leupegem is located at 29 km of this accommodation
Elversele is located at 29 km of this accommodation
Edelare is located at 29 km of this accommodation
Haaltert is located at 29 km of this accommodation
Tielt is located at 29 km of this accommodation
Erembodegem (Aalst) is located at 30 km of this accommodation
Wortegem-Petegem is located at 30 km of this accommodation
Maarke-Kerkem is located at 30 km of this accommodation
Sint-Antelinks is located at 30 km of this accommodation
Moerzeke is located at 30 km of this accommodation
Petegem-aan-de-Schelde is located at 30 km of this accommodation
Hertsberge is located at 30 km of this accommodation
Sint-Baafs-Vijve is located at 30 km of this accommodation
Wortegem is located at 30 km of this accommodation
Sijsele is located at 30 km of this accommodation
Zegelsem is located at 30 km of this accommodation
Waregem is located at 30 km of this accommodation
Welle is located at 31 km of this accommodation
Baasrode is located at 31 km of this accommodation
Lierde is located at 31 km of this accommodation
De Klinge is located at 31 km of this accommodation
Etikhove is located at 31 km of this accommodation
Sint-Maria-Lierde is located at 31 km of this accommodation
Sint-Niklaas is located at 31 km of this accommodation
Moerkerke is located at 31 km of this accommodation
Schorisse is located at 31 km of this accommodation
Moorsel is located at 31 km of this accommodation
Wingene is located at 31 km of this accommodation
Wielsbeke is located at 31 km of this accommodation
Maarkedal is located at 32 km of this accommodation
Opbrakel is located at 32 km of this accommodation
Nederbrakel is located at 32 km of this accommodation
Oostrozebeke is located at 32 km of this accommodation
Aspelare is located at 32 km of this accommodation
Ophasselt is located at 32 km of this accommodation
Sint-Martens-Lierde is located at 32 km of this accommodation
Brakel is located at 32 km of this accommodation
Lapscheure is located at 32 km of this accommodation
Denderhoutem is located at 32 km of this accommodation
Melden is located at 32 km of this accommodation
Sint-Gillis-Waas is located at 32 km of this accommodation
Nederhasselt is located at 32 km of this accommodation
Elsegem is located at 32 km of this accommodation
Gijzelbrechtegem is located at 32 km of this accommodation
Mariekerke (Bornem) is located at 33 km of this accommodation
Egem is located at 33 km of this accommodation
Smeerebbe-Vloerzegem is located at 33 km of this accommodation
Nukerke is located at 33 km of this accommodation
Pittem is located at 33 km of this accommodation
Baardegem is located at 33 km of this accommodation
Hemelveerdegem is located at 33 km of this accommodation
Meulebeke is located at 33 km of this accommodation
Weert is located at 33 km of this accommodation
Voorde is located at 33 km of this accommodation
Iddergem is located at 33 km of this accommodation
Anzegem is located at 33 km of this accommodation
Denderleeuw is located at 33 km of this accommodation
Ooigem is located at 34 km of this accommodation
Desselgem is located at 34 km of this accommodation
Damme is located at 34 km of this accommodation
Oostkamp is located at 34 km of this accommodation
Deftinge is located at 34 km of this accommodation
Affligem is located at 34 km of this accommodation
Temse is located at 34 km of this accommodation
Outer is located at 34 km of this accommodation
Assebroek is located at 34 km of this accommodation
Sint-Amands is located at 34 km of this accommodation
Kaster is located at 34 km of this accommodation
Waardamme is located at 34 km of this accommodation
Meldert (O.-Vl.) is located at 34 km of this accommodation
Hekelgem is located at 34 km of this accommodation
Hoeke is located at 34 km of this accommodation
Nieuwkerken-Waas is located at 34 km of this accommodation
Parike is located at 34 km of this accommodation
Teralfene is located at 34 km of this accommodation
Appelterre-Eichem is located at 34 km of this accommodation
Vichte is located at 35 km of this accommodation
Zwevezele is located at 35 km of this accommodation
Ninove is located at 35 km of this accommodation
Mazenzele is located at 35 km of this accommodation
Schendelbeke is located at 35 km of this accommodation
Opwijk is located at 35 km of this accommodation
Liedekerke is located at 35 km of this accommodation
Kerkhove is located at 35 km of this accommodation
Ruddervoorde is located at 35 km of this accommodation
Sint-Kruis (Brugge) is located at 35 km of this accommodation
Okegem is located at 35 km of this accommodation
Buggenhout is located at 35 km of this accommodation
Tiegem is located at 35 km of this accommodation
Opdorp is located at 35 km of this accommodation
Zulzeke is located at 35 km of this accommodation
Idegem is located at 35 km of this accommodation
Tielrode is located at 35 km of this accommodation
Meerdonk is located at 35 km of this accommodation
Pamel is located at 36 km of this accommodation
Berchem (O.-Vl.) is located at 36 km of this accommodation
Vrasene is located at 36 km of this accommodation
Ingooigem is located at 36 km of this accommodation
Grimminge is located at 36 km of this accommodation
Oppuurs is located at 36 km of this accommodation
Ingelmunster is located at 36 km of this accommodation
Oostkerke (Damme) is located at 36 km of this accommodation
Onkerzele is located at 36 km of this accommodation
Essene is located at 36 km of this accommodation
Zandbergen is located at 36 km of this accommodation
Bornem is located at 36 km of this accommodation
Pollare is located at 36 km of this accommodation
Sint-Michiels is located at 36 km of this accommodation
Deerlijk is located at 36 km of this accommodation
Everbeek is located at 36 km of this accommodation
Koolkerke is located at 36 km of this accommodation
Koolskamp is located at 36 km of this accommodation
Zarlardinge is located at 37 km of this accommodation
Meerbeke is located at 37 km of this accommodation
Nederboelare is located at 37 km of this accommodation
Otegem is located at 37 km of this accommodation
Malderen is located at 37 km of this accommodation
Geraardsbergen is located at 37 km of this accommodation
Hulste is located at 37 km of this accommodation
Haasdonk is located at 37 km of this accommodation
Bavikhove is located at 37 km of this accommodation
Kwaremont is located at 37 km of this accommodation
Verrebroek is located at 37 km of this accommodation
Overboelare is located at 37 km of this accommodation
Goeferdinge is located at 37 km of this accommodation
Loppem is located at 37 km of this accommodation
Waarmaarde is located at 37 km of this accommodation
Hingene is located at 38 km of this accommodation
Roosdaal is located at 38 km of this accommodation
Ronse is located at 38 km of this accommodation
Kallo (Kieldrecht) is located at 38 km of this accommodation
Westkapelle is located at 38 km of this accommodation
Kieldrecht (Beveren) is located at 38 km of this accommodation
Lippelo is located at 38 km of this accommodation
Kluisbergen is located at 38 km of this accommodation
Nieuwenhove is located at 38 km of this accommodation
Ardooie is located at 38 km of this accommodation
Renaix is located at 38 km of this accommodation
Steendorp is located at 38 km of this accommodation
Waarbeke is located at 38 km of this accommodation
Veldegem is located at 38 km of this accommodation
Steenhuffel is located at 39 km of this accommodation
Liezele is located at 39 km of this accommodation
Harelbeke is located at 39 km of this accommodation
Flobecq is located at 39 km of this accommodation
Asse is located at 39 km of this accommodation
Sint-Andries is located at 39 km of this accommodation
Beveren-Waas is located at 39 km of this accommodation
Kuurne is located at 39 km of this accommodation
Strijtem is located at 39 km of this accommodation
Emelgem is located at 39 km of this accommodation
Ruien is located at 39 km of this accommodation
Merchtem is located at 39 km of this accommodation
Brugge is located at 39 km of this accommodation
Mollem is located at 39 km of this accommodation
Denderwindeke is located at 39 km of this accommodation
Sint-Katherina-Lombeek is located at 39 km of this accommodation
Dudzele is located at 39 km of this accommodation
Vloesberg is located at 39 km of this accommodation
Avelgem is located at 39 km of this accommodation
Ellezelles is located at 39 km of this accommodation
Izegem is located at 39 km of this accommodation
Ternat is located at 40 km of this accommodation
Moerbeke is located at 40 km of this accommodation
Ramskapelle (Knokke-Heist) is located at 40 km of this accommodation
Lendelede is located at 40 km of this accommodation
Borchtlombeek is located at 40 km of this accommodation
Neigem is located at 40 km of this accommodation
Zedelgem is located at 40 km of this accommodation
Russeignies is located at 40 km of this accommodation
Puurs is located at 40 km of this accommodation
Zwevegem is located at 40 km of this accommodation
Wambeek is located at 40 km of this accommodation
Rupelmonde is located at 40 km of this accommodation
Heestert is located at 40 km of this accommodation
Kachtem is located at 40 km of this accommodation
Onze-Lieve-Vrouw-Lombeek is located at 40 km of this accommodation
Lieferinge is located at 40 km of this accommodation
Lichtervelde is located at 40 km of this accommodation
Ghoy is located at 40 km of this accommodation
Orroir is located at 41 km of this accommodation
Knokke is located at 41 km of this accommodation
Escanaffles is located at 41 km of this accommodation
Wattripont is located at 41 km of this accommodation
Knokke-Heist is located at 41 km of this accommodation
Amougies is located at 41 km of this accommodation
Galmaarden is located at 41 km of this accommodation
Varsenare is located at 41 km of this accommodation
Ogy is located at 41 km of this accommodation
Arc-Wattripont is located at 41 km of this accommodation
Deux-Acren is located at 41 km of this accommodation
Viane is located at 41 km of this accommodation
Bazel is located at 41 km of this accommodation
Wodecq is located at 41 km of this accommodation
Mont-de-l'Enclus is located at 41 km of this accommodation
Brussegem is located at 42 km of this accommodation
Oetingen is located at 42 km of this accommodation
Ruisbroek (Antw.) is located at 42 km of this accommodation
Lissewege is located at 42 km of this accommodation
Meetkerke is located at 42 km of this accommodation
Londerzeel is located at 42 km of this accommodation
Breendonk is located at 42 km of this accommodation
Moen is located at 42 km of this accommodation
Beveren (Roeselare) is located at 42 km of this accommodation
Snellegem is located at 42 km of this accommodation
Rumbeke is located at 42 km of this accommodation
Kruibeke is located at 42 km of this accommodation
Anseroeul is located at 42 km of this accommodation
Outrijve is located at 42 km of this accommodation
Kobbegem is located at 42 km of this accommodation
Sint-Ulriks-Kapelle is located at 42 km of this accommodation
Vollezele is located at 42 km of this accommodation
Melsele is located at 42 km of this accommodation
Sint-Martens-Bodegem is located at 43 km of this accommodation
Oekene is located at 43 km of this accommodation
Torhout is located at 43 km of this accommodation
Zuienkerke is located at 43 km of this accommodation
Tollembeek is located at 43 km of this accommodation
Aartrijke is located at 43 km of this accommodation
Heule is located at 43 km of this accommodation
Bekkerzeel is located at 43 km of this accommodation
Schelle is located at 43 km of this accommodation
Kallo (Beveren-Waas) is located at 43 km of this accommodation
Heist-aan-Zee is located at 43 km of this accommodation
Gooik is located at 43 km of this accommodation
Hamme (Bt.) is located at 43 km of this accommodation
Saint-Sauveur is located at 43 km of this accommodation
Lessines is located at 43 km of this accommodation
Bossuit is located at 43 km of this accommodation
Dergneau is located at 43 km of this accommodation
Niel is located at 43 km of this accommodation
Hemiksem is located at 43 km of this accommodation
Schepdaal is located at 43 km of this accommodation
Roeselare is located at 43 km of this accommodation
Sint-Kwintens-Lennik is located at 44 km of this accommodation
Bievene is located at 44 km of this accommodation
Leerbeek is located at 44 km of this accommodation
Gits is located at 44 km of this accommodation
Arc-Ainières is located at 44 km of this accommodation
Wolvertem is located at 44 km of this accommodation
Zeebrugge (Brugge) is located at 44 km of this accommodation
Zwijndrecht is located at 44 km of this accommodation
Kortrijk is located at 44 km of this accommodation
Sint-Denijs is located at 44 km of this accommodation
Sint-Martens-Lennik is located at 44 km of this accommodation
Wannebecq is located at 44 km of this accommodation
Lennik is located at 44 km of this accommodation
Jabbeke is located at 44 km of this accommodation
Relegem is located at 44 km of this accommodation
Lahamaide is located at 44 km of this accommodation
Groot-Bijgaarden is located at 44 km of this accommodation
Bever is located at 44 km of this accommodation
Sint-Eloois-Winkel is located at 44 km of this accommodation
Ramsdonk is located at 44 km of this accommodation
Ostiches is located at 45 km of this accommodation
Pottes is located at 45 km of this accommodation
Tisselt is located at 45 km of this accommodation
Burcht is located at 45 km of this accommodation
Hoboken (Antwerpen) is located at 45 km of this accommodation
Papignies is located at 45 km of this accommodation
Lillo is located at 45 km of this accommodation
Beveren (Leie) is located at 45 km of this accommodation
Gullegem is located at 45 km of this accommodation
Doel is located at 45 km of this accommodation
Kester is located at 45 km of this accommodation
Bois-de-Lessines is located at 45 km of this accommodation
Bissegem is located at 45 km of this accommodation
Zerkegem is located at 45 km of this accommodation
Willebroek is located at 45 km of this accommodation
Meise is located at 45 km of this accommodation
Oeudeghien is located at 45 km of this accommodation
Celles (Ht.) is located at 45 km of this accommodation
Zellik is located at 45 km of this accommodation
Frasnes-lez-Anvaing is located at 45 km of this accommodation
Boom is located at 45 km of this accommodation
Houtave is located at 45 km of this accommodation
Wemmel is located at 46 km of this accommodation
Driekapellen is located at 46 km of this accommodation
Hooglede is located at 46 km of this accommodation
Ollignies is located at 46 km of this accommodation
Aartselaar is located at 46 km of this accommodation
Nieuwenrode is located at 46 km of this accommodation
Blaasveld is located at 46 km of this accommodation
Gaasbeek is located at 46 km of this accommodation
Marke (Kortrijk) is located at 46 km of this accommodation
Herfelingen is located at 46 km of this accommodation
Sint-Pieters-Kapelle (Bt.) is located at 46 km of this accommodation
Uitkerke is located at 46 km of this accommodation
Helkijn is located at 46 km of this accommodation
Kapelle-op-den-Bos is located at 46 km of this accommodation
Itterbeek is located at 46 km of this accommodation
Dilbeek is located at 46 km of this accommodation
Bellegem is located at 46 km of this accommodation
Helchin is located at 46 km of this accommodation
Stalhille is located at 46 km of this accommodation
Cordes is located at 46 km of this accommodation
Anvaing is located at 46 km of this accommodation
Antwerpen is located at 47 km of this accommodation
Isières is located at 47 km of this accommodation
Blankenberge is located at 47 km of this accommodation
Brussel (Sint-Agatha-Berchem) is located at 47 km of this accommodation
Spiere-Helkijn is located at 47 km of this accommodation
Bekegem is located at 47 km of this accommodation
Bruxelles (Berchem-Sainte-Agathe) is located at 47 km of this accommodation
Buissenal is located at 47 km of this accommodation
Berchem-Sainte-Agathe is located at 47 km of this accommodation
Ellignies-lez-Frasnes is located at 47 km of this accommodation
Espierres-Helchin is located at 47 km of this accommodation
Beigem is located at 47 km of this accommodation
Herne is located at 47 km of this accommodation
Moorsele is located at 47 km of this accommodation
Kortemark is located at 47 km of this accommodation
Nieuwmunster is located at 47 km of this accommodation
Terhagen is located at 47 km of this accommodation
Ganshoren is located at 47 km of this accommodation
Frasnes-lez-Buissenal is located at 47 km of this accommodation
Bruxelles (Ganshoren) is located at 47 km of this accommodation
Vlezenbeek is located at 47 km of this accommodation
Elingen is located at 47 km of this accommodation
Sint-Agatha-Berchem is located at 47 km of this accommodation
Kooigem is located at 47 km of this accommodation
Brussel (Ganshoren) is located at 47 km of this accommodation
Sint-Laureins-Berchem is located at 47 km of this accommodation
Rollegem-Kapelle is located at 47 km of this accommodation
Wevelgem is located at 48 km of this accommodation
Heikruis is located at 48 km of this accommodation
Oostnieuwkerke is located at 48 km of this accommodation
Antwerpen is located at 48 km of this accommodation
Wilrijk (Antwerpen) is located at 48 km of this accommodation
Rebaix is located at 48 km of this accommodation
Ettelgem is located at 48 km of this accommodation
Rollegem is located at 48 km of this accommodation
Bassilly is located at 48 km of this accommodation
Bogaarden is located at 48 km of this accommodation
Eernegem is located at 48 km of this accommodation
Humbeek is located at 48 km of this accommodation
Oudenaken is located at 48 km of this accommodation
Ledegem is located at 48 km of this accommodation
Molenbaix is located at 48 km of this accommodation
Reet is located at 48 km of this accommodation
Moustier (Ht.) is located at 48 km of this accommodation
Espierres is located at 48 km of this accommodation
Aalbeke is located at 48 km of this accommodation
Forest (Ht.) is located at 48 km of this accommodation
Roksem is located at 48 km of this accommodation
Spiere is located at 48 km of this accommodation
Heindonk is located at 48 km of this accommodation
Vlissegem is located at 49 km of this accommodation
Dottignies is located at 49 km of this accommodation
Brussel (Sint-Jans-Molenbeek) is located at 49 km of this accommodation
Mark is located at 49 km of this accommodation
Enghien is located at 49 km of this accommodation
Hellebecq is located at 49 km of this accommodation
Dottenijs is located at 49 km of this accommodation
Sint-Jans-Molenbeek is located at 49 km of this accommodation
Antwerpen is located at 49 km of this accommodation
Grimbergen is located at 49 km of this accommodation
Marcq is located at 49 km of this accommodation
Bruxelles (Jette) is located at 49 km of this accommodation
Antwerpen is located at 49 km of this accommodation
Bruxelles (Molenbeek-Saint-Jean) is located at 49 km of this accommodation
Lauwe is located at 49 km of this accommodation
Brussel (Jette) is located at 49 km of this accommodation
Westkerke is located at 49 km of this accommodation
Meslin-l'Evêque is located at 49 km of this accommodation
Heffen is located at 49 km of this accommodation
Bellingen is located at 49 km of this accommodation
Ghislenghien is located at 49 km of this accommodation
Bouvignies is located at 49 km of this accommodation
Rumst is located at 49 km of this accommodation
Strombeek-Bever is located at 49 km of this accommodation
Lanquesaint is located at 49 km of this accommodation
Molenbeek-Saint-Jean is located at 49 km of this accommodation
Jette is located at 49 km of this accommodation
Ichtegem is located at 49 km of this accommodation
Hérinnes-lez-Pecq is located at 49 km of this accommodation
Pepingen is located at 49 km of this accommodation
Velaines is located at 49 km of this accommodation
Mainvault is located at 49 km of this accommodation
Leest is located at 49 km of this accommodation
Wenduine is located at 49 km of this accommodation
Edingen is located at 49 km of this accommodation
Hacquegnies is located at 49 km of this accommodation
Popuelles is located at 49 km of this accommodation
Antwerpen is located at 49 km of this accommodation
Saint-Léger (Ht.) is located at 50 km of this accommodation
Moorslede is located at 50 km of this accommodation
Houtaing is located at 50 km of this accommodation
Handzame is located at 50 km of this accommodation
Warcoing is located at 50 km of this accommodation
Anderlecht is located at 50 km of this accommodation
Berendrecht is located at 50 km of this accommodation
Antwerpen is located at 50 km of this accommodation
Brussel (Anderlecht) is located at 50 km of this accommodation
Berchem (Antwerpen) is located at 50 km of this accommodation
Bruxelles (Koekelberg) is located at 50 km of this accommodation
Brussel (Laken) is located at 50 km of this accommodation
Edegem is located at 50 km of this accommodation
Bruxelles (Laeken) is located at 50 km of this accommodation
Laeken (Bruxelles) is located at 50 km of this accommodation
Staden is located at 50 km of this accommodation
Laken (Brussel) is located at 50 km of this accommodation
Beert is located at 50 km of this accommodation
Montroeul-au-Bois is located at 50 km of this accommodation
Oudenburg is located at 50 km of this accommodation
Sint-Pieters-Leeuw is located at 50 km of this accommodation
Bruxelles (Anderlecht) is located at 50 km of this accommodation
Koekelberg is located at 50 km of this accommodation
Brussel (Koekelberg) is located at 50 km of this accommodation
Zandvliet is located at 50 km of this accommodation